Sexual violence prevention
NJCASA believes that most people don't want to be violent or abusive – social norms that support aggression, isolation, hypermasculinity, and power imbalances influence us or make these behaviors seem "normal." Our work – and the work of local rape crisis centers – focuses on highlighting these norms so we can create solutions to the problem of sexual violence.
---
Meaningful Social Change: Primary Prevention
Social change requires many pieces – education, awareness-raising, supporting survivors, and comprehensive training are all parts of the puzzle. Meaningful Social Change outlines NJCASA's approach to prevention.
Meaningful Social Change includes:
Perspectives from practitioners
Current research on preventing someone from harming others
Information on how primary prevention affects attitudes and behaviors
Guidance for collaborators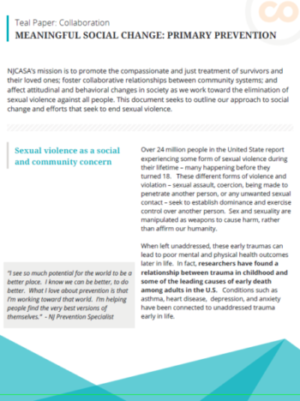 ---
Creating a Safer Garden State
We are committed to eliminating sexual violence and abuse through community and statewide efforts. NJCASA supports the work of county-based rape crisis centers as they engage with partners to create safer communities.
Preventionists are dedicated professionals who implement prevention programming and serve as resources for organizations creating positive change. Preventionists across the state of New Jersey are trained on different ways to address the many causes of violence:
Media Literacy: The ability to critically observe everyday messages and create alternatives to mass media is a piece of the prevention puzzle. New Jersey's Media Literacy curriculum is designed to help participants examine the root causes of gender-based violence and become proactive media consumers. See more about our approach below!

Promoting healthy relationships: Early experiences with romantic relationships lay the foundation for years to come. Promoting healthy relationships offers new models, improves helping and conflict-resolution skills, and shapes beliefs in the importance of reaching out for help.
Bystander Intervention: A person makes many of their decisions based on reactions from the people around them – friends, family, coworkers, peers, or even strangers. Someone may choose to not get involved or ignore a problem because they think others are doing the same. Bystander intervention helps people tap into their bravery and find safe ways to act when they see harmful behaviors and attitudes in others.
---
Gender and Violence: How Media Shape Our Culture
Media literacy skills teach people to identify and comment on negative, gendered mass media and understand the impact of these messages.
In 2010, NJCASA collaborated with the Media Literacy Project, New Mexico to create a media literacy strategy specific to sexual violence.
This "homegrown" strategy is the result of years of research and is informed by the knowledge of New Jersey's preventionists.  Activities and discussions are intended for use with young adults (typically 8th or 9th grade) to college-aged adults.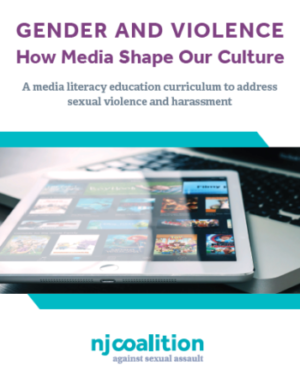 ---
Creating Safer Campus Communities
A safe campus community means students can thrive while learning and growing as people.  Currently, campuses are not as safe as they could be – 20% of women1 and 5% of men2 are sexually assaulted while in college, and 75% of students who identify as lesbian, gay, bisexual, or trans* (LGBT) report experiencing sexual harassment.3
We also know that the vast majority of survivors know the person who attempted or committed the sexual assault. 4  People who sexually assault others build trust and then may use manipulation, alcohol, and / or drugs to hurt someone. Reducing the number of campus-based sexual assault means taking a hard look at long-held norms and traditions.
PREVENTION ON COLLEGE CAMPUSES INCLUDES:
Promoting active and enthusiastic consent. Consent means everyone involved in sexual activity or interaction is excited to be there. Consent can be a verbal "Yes" (or something like it) or body language clearly and undeniably indicating agreement (e.g. nodding of head or taking off their own clothes). Silence is not consent. If someone is unconscious, they cannot give consent.
Developing and enforcing comprehensive sexual assault policies, informed by research on trauma and the dynamics of sexual violence. Schools are charged with balancing the rights and needs of every student. This means they must equip investigators, first responders, and administration with all the information necessary to promote safety on campus.
Supporting student activism and participation in the institution's sexual assault policies. While students spend a few short years within a campus community, they have unique perspectives and expertise on what it means to be a student on campus. Schools can engage student groups in policy education and capture lived experiences through climate surveys.
COLLEGE CONSORTIUM
Since 2010, NJCASA has led a statewide effort to engage schools in discussions of campus-based sexual assault. The NJCASA College Consortium is made up of dedicated campus professionals from colleges and universities throughout New Jersey who aim to create positive change and eliminate all forms of violence. The Consortium meets regularly to develop thoughtful responses to timely issues impacting campus communities, stay current on trends and promising practices, and create a collection of resources for campuses. Email info@njcasa.org to learn more
---
---
Footnotes:
[1] Krebs, C.P., Lindquist, C.H., Warner, T.D., Fisher, B.S., & Martin, S.L. (2007). The Campus Sexual Assault (CSA) Study. Washington, D.C: National Institute of Justice, U.S. Department of Justice; Krebs, C.P., Lindquist, C.H., Warner, T.D., Fischer, B.S., & Martin, S.L. (2009). College Women's Experiences with Physically Forced Alcohol- or Other Drug-Facilitated Sexual Assault Before and Since Entering College. Journal of American College Health, 57(6), 639-647.
[2] Washington Post-Kaiser Family Foundation Survey. (2015, June 12). Kaiser family foundation survey of college students on sexual assault. The Washington Post. Retrieved from https://www.washingtonpost.com/graphics/local/sexual-assault-poll/
[3] Cantor, D., Fisher, B., Chibnall, S., Townsend, R… (2015).Report on the AAU Campus Climate Survey on Sexual Assault and Sexual Misconduct. Rockville, MD: Westat. Retrieved from https://www.aau.edu/uploadedFiles/AAU_Publications/AAU_Reports/Sexual_Assault_Campus_Survey/AAU_Campus_Climate_Survey_12_14_15.pdf.
[4] Sinozich, S. & Langton, L. (2014), Rape and sexual assault victimization among college-age females, 1995 – 2013. Washington, D.C.: U.S. Department of Justice, Office of Justice Programs, Bureau of Justice Statistics. Retrieved from https://www.bjs.gov/content/pub/pdf/rsavcaf9513.pdf