During the first week of classes, four new friends get invited to Ryan's party and can't wait to go. The next morning, Liz and Rachel are worried because they've been trying to reach Jess and Elena all night. They meet up to talk and Jess is really hesitant to share what happened. As she begins to tell the story, the scene freezes. The lights change and now we're listening to Ryan tell his buddy Alex the events of the night before. What unfolds is a re-telling of the sexual assault from both characters that is often referred to as a "he said, she said" in real life. Jess is blamed for what happened to her and storms away from her friends. Ryan is eventually confronted by his friend Corey who can't believe what he's heard.
It's an unfortunately familiar scene on campuses across the county – but this time, there's an audience full of incoming Rutgers University students watching and they'll soon have a chance to ask the student performers in their characters about what happened.
As a college student at Rutgers University-New Brunswick, I was involved in the anti-violence movement. In my current role as the Prevention Education Coordinator at the Rutgers University Office for Violence Prevention and Victim Assistance, I coordinate the peer education improvisational theater group, SCREAM Theater (Students Challenging Realities and Educating Against Myths).  We engage students to talk about these issues by making it fun and approachable, to help them educate and talk about it with others. We focus on the concept of bystander intervention as a way to teach students to intervene when they know something is not okay.
One of the things that worries me is when I hear that bystander intervention is supposed to look or sound a certain way. Throughout my work with SCREAM, here are some of the things I've learned about implementing bystander intervention strategies:
Meet people where they are. This should be the motto for bystander intervention. We can't expect people to be perfect, and there is no perfect way to intervene. We certainly can't judge, condemn, or demand things from others that they are not capable of.
If the original plan was nothing, doing anything positive is better. Not everyone will be ready to confront a situation directly and that's okay. We approach it on a scale of 0-10. If someone was originally going to do absolutely nothing (0), but now they feel like they can do one thing (like an eye roll, making a side comment) to get them to a 1, that's success!
Nothing is too small to be considered a moment of bystander intervention. If we lived in a world where EVERYONE simply stopped laughing at rape jokes, people would stop telling them.
"Around 2:00am during the first week of our senior year, my friends and I found ourselves at a pizzeria consoling a crying first year student. Twenty minutes earlier when we passed her on the street and I asked "you good?" – she wasn't. Her name was Alyssa*, she had lost her friends at a party off campus, and she really missed her mom. That summer I had started a tradition. Whenever we were walking home from a night out, I would playfully point to people walking alone and ask if they were "good." Initially, my friends were a mixture of confused and embarrassed, but they chalked it up to me being outgoing. But to me, it felt like a small gesture that could possibly help someone.  After we walked Alyssa back to her hall, I noticed a change in my friends. By the end of the semester, I was no longer the only one to ask people if they were good. The tradition was passed on." –Krista Wohlbold, SCREAM Theater member 2014-2017
When one of the students who worked for me on the SCREAM Theater administrative staff shared this with me, it sent chills down my spine. To know that something so simple had started and spread to help create a sense of community on a college campus of 50,000 students was amazing. This is the message of bystander intervention that I teach my students, and then, using peer education they help normalize it to their friends.
One of the most effective ways we teach and encourage bystander intervention is by having the audience ask questions to the actors after they've watched each skit, who then respond in character. The audience can challenge the perpetrator, call out victim blaming, or ask the survivor about their options. Giving audience members the chance to ask these questions, not to an educator but to their peers, is so important. That is bystander intervention.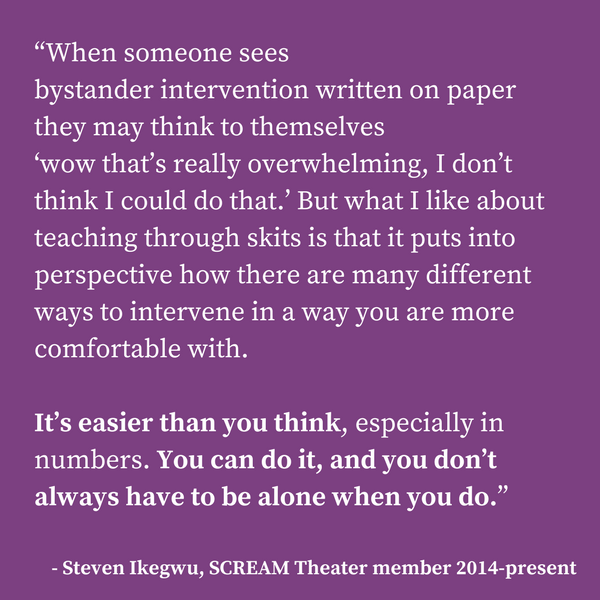 During one summer orientation skit for first year students, an audience member asked something offensive to the character of the survivor. The actress who was playing the role of the survivor described the interaction as an opportunity to employ bystander intervention:
"Although the question was really offensive, I did my best to stay in character and respond how I thought my character, a survivor, would respond. I believe through my answer it was clear that my character was doubting herself and potentially seeing truth in what the audience member asked, showing that offensive comments can really influence the course of action survivors choose to take, or not to take. After I responded, another audience member challenged the offensive question directly and the room exploded in applause to back him up. The power of bystander intervention is real, both on and off stage! It's easy to be shocked and respond quickly without thinking, because my first instinct was to tell him he was wrong. But it was important to meet him where he was at and hold back judgment. Who knows why he asked this question? Whatever the reason, he was engaging with us and it's important that we reciprocate with open minds."
We're asking students to transform the way they understand the issue of sexual violence and their role in preventing it. Instead of hearing the statistics, shrugging their shoulders, and saying, "Yeah, but what can I do?," we want to hear students saying, "Okay, so tell me – what can I do?"
*Name has been changed
About the Author
Brady Root is the Prevention Education Coordinator at the Rutgers University Office for Violence Prevention and Victim Assistance. Brady received her Master's in Social Work with a Certification in Violence Against Women and Children from Rutgers University Graduate School of Social work and received her undergraduate degree in Environmental Policy from Rutgers University. She has been lucky enough to be involved with SCREAM Theater for over twelve years and witness first-hand the power it has to change lives