Sexual Assault Awareness Month 2022
SOCIAL MEDIA CAMPAIGN | EVENTS | RESOURCES |
April is Sexual Assault Awareness Month. As we continue to advocate educate, and grow, this month provides a special opportunity to engage our communities and learn together. At NJCASA, we are committed to preventing sexual violence and supporting survivors through the centering of anti-oppression and anti-racist principles. That's why, this year, NJCASA's SAAM campaign theme is Fostering Accessible, Safe Spaces.
As we work towards liberation from sexual violence, we know that we are stronger when we stand together. Effective collective advocacy, prevention, and healing require us to be inclusive and uplift all voices in the movement, especially of those with marginalized identities.
---
Social Media Campaign
Join us on social media this April for our SAAM social media campaign: Fostering Accessible, Safe Spaces! Learn with us as we share a series of posts about building an accessible anti-sexual violence movement.
Each week, we will focus on a theme related to creating inclusive, collaborative spaces. Check out our schedule:
Week 1 (4/4-4/8)- Practicing Cultural Humility
Week 2 (4/11-15)- Disability Justice
Week 3 (4/18- 4/22)- Language Justice & Access
Week 4 (4/25-29)- Self & Community Care
 Interested in sharing our posts?
Check out our SAAM SOCIAL MEDIA TOOLKIT with all our infographics available for download (in English & Spanish).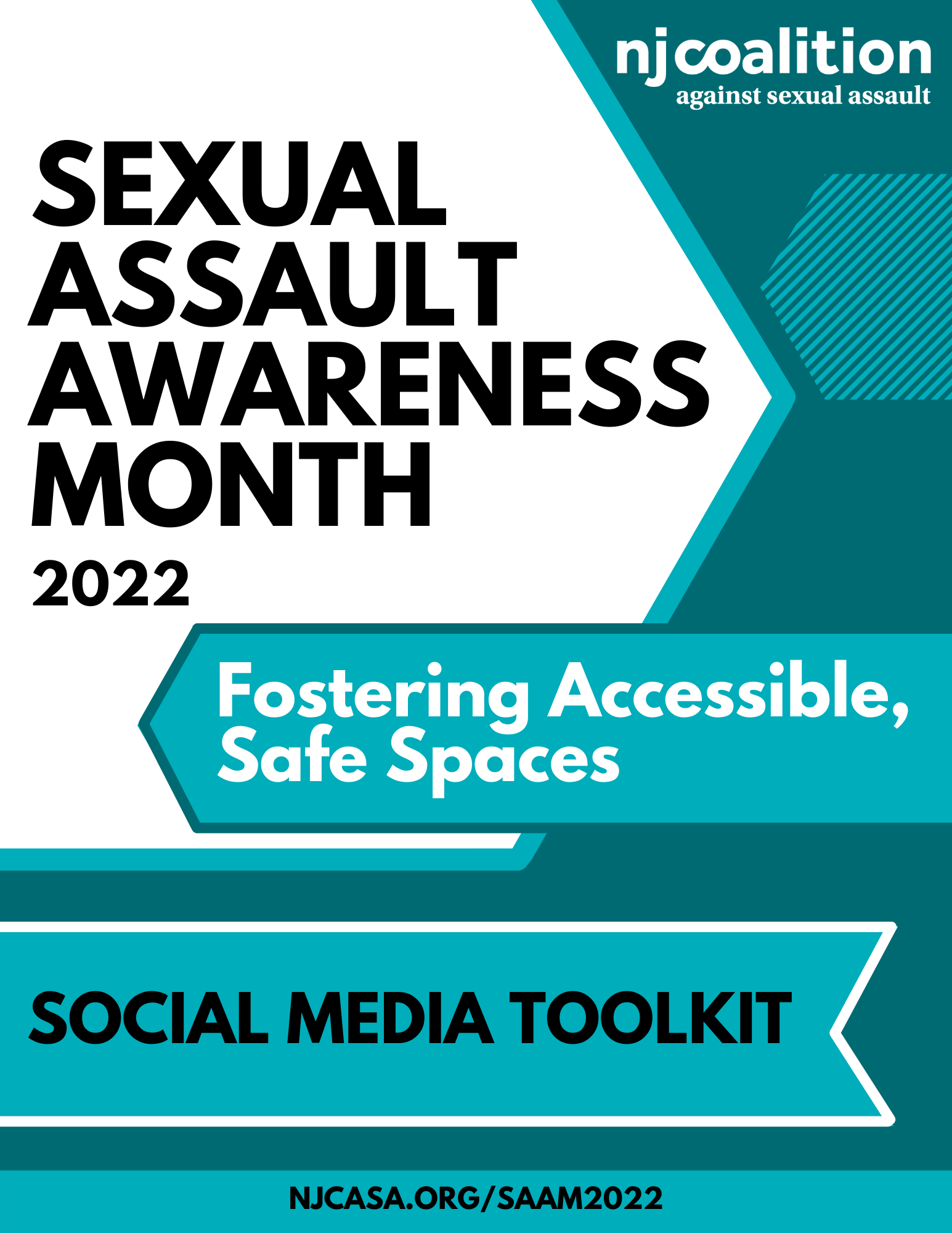 ---
Local Events 
Local sexual violence programs across New Jersey are hosting both in-person and virtual events and activities throughout Sexual Assault Awareness Month.
Bergen County
April 5 | YWTV SAAM History and more
Simaza Sadek, healingSPACE Director, will discuss the history of SAAM and the programming and support healingSPACE can offer to those impacted by sexual violence.
Camden County
April 21 | This is Us Too, So Let's Talk (Part 2): Shedding Light on the Prevalence of Domestic and Sexual Violence in LGBTQIA+ Communities
Join Harambe Social Services at 5:00 pm on April 21, 2022 at Rutgers University, Camden for part two of an open and candid conversation, about sexual and domestic violence in the LGBTQIA+ community. More information available here.
Essex County
April 24 | Sexual Violence Awareness Walk
Join SAVE of Essex for their Sexual Violence Awareness Walk to support survivors of sexual violence and
raise awareness during Sexual Assault Awareness Month.
Middlesex county
April 29 | Manavi Community Event
Join Manavi for their Manavi Community Event for SAAM on April 29th, 2022  starting at 6:30 pm at Indian Consulate, NY. RSVP for the event at nahrin@manavi.org.
Monmouth County
April 27 | Sexual Violence Awareness Event
Join the Community Affairs and Resource Center on April 27th in Asbury Park, NJ for their Sexual Violence Awareness Event. See flyer for additional details.
Morris County
April 20 | Morris County Sexual Assault Center Survivor Speaks Virtual Event
This is a virtual evening of creative expression, which will be open to any survivors in NJ who would like to share their stories or creative expression pieces in the form of art, music, poetry, spoken word, etc. It's also open to any allies or advocates who are interested in supporting the cause. We will be sharing about our services, the importance of creativity in healing, and having messages of support and artistic pieces shared throughout the night. To register please use this link here and indicate if you would like to participate by sharing a creative piece or attend in support of the cause.
April 22 | Take Back the Night Walk
Take Back the Night is an event that raises awareness, empowers individuals, and inspires action that will bring an end to sexual violence.  In its earliest forms, in the 1970's, it spotlighted violence against women and their ability to be safe while being in the streets at night, for whatever their purpose.  The present-day mission recognizes individuals of all gender identities from all around the world.  This annual event is observed in 30 different countries. Morris County Sexual Assault Center is hosting a Take Back the Night Walk on April 22nd at Picatinny Arsenal starting at 6pm until midnight. For any questions, please call Alberta Cole at 973.724.3463. To register please sign up here.
Passaic COUNTY
April 21st | Sexual Violence and the Law
Join Wafa House for Sexual Violence and the Law, hosted by Mena Mohammed, Wafa House Preventionist, with Maria Reynolds and Lisa Nicole Roskos from Partners of NJ. Join April 21st 6pm on Facebook Live.
April 25 | Sexual Assault Protection Act 101
On Monday April 25th at 1pm, the Passaic County Women's Center in collaboration with Northeast New Jersey Legal Services will be hosting a presentation on the basics of the Sexual Assault Protection Act on zoom.
April 30 | PCWC Run/Fun Walk
Enjoy a 2.3 mile walk/fun run with amazing views of the NYC skyline with friends and family at beautiful Garret Mountain Reservation.
Union County
April 28 | SAAM RoundTable Discussion
Join Union County Rape Crisis Center and YWCA Union County for a roundtable discussion about the role of men in preventing sexual assault & all forms of violence against women.
Somerset County
April 11 | Live at Lunch: Supporting Survivors as a Confidential Sexual Violence Advocate
Join Safe+Sound Somerset on Facebook Live (@safesoundsomerset) at 12:00pm to hear our conversation with Evelyn, volunteer CSVA to learn about this special role and her experiences supporting survivors of sexual violence.
April 20 | Ask Ava Anything!
Don't you wish you had someone to ask anything? Well, you can Ask Ava! Safe+Sound Somerset will be online all day fielding your questions and posting answers about sexual violence, consent, healthy relationships, their services, and more! Make sure to follow them on Instagram and Facebook @safesoundsomerset
to post your questions and view the Q+As in their stories throughout the day.
April 25 | Recognizing and Responding to Sexual Violence Webinar
Join Safe+Sound Somerset for their webinar in which they will define sexual violence and consent; identify warning signs that someone has experienced sexual violence or abuse; review survivor services and the role of the Sexual Assault Response Team in supporting survivors; and provide tips and tools for supporting survivors of sexual violence and safely connecting them to services at Safe+Sound Somerset. Registration is required.
April 27 | Denim Day
Take a stand by asking your employer to encourage everyone to Wear Jeans (Teal Top Optional)
on #DeninDay in support of survivors and sexual assault awareness! If you are interested in
participating, email kcantwell@safe-sound.org for Safe+Sound Somerset's #DenimDay Toolkit.
---
Accessibility
Disability Justice
LGBTQ+
Language Justice & Access
Self-Care & Community Care