Jackson Tay Bosley, PsyD., is the recipient of a 2017 Visionary Voice Award, as a leader in sexual assault prevention. Dr. Bosley is a longstanding member of New Jersey's Prevention and Public Education Committee, and has displayed over 30 years of commitment to addressing community trauma and harm. NJCASA nominated Dr. Bosley for his contributions in the field of sexual violence prevention. The Visionary Voice Awards are presented annually across the nation by the National Sexual Violence Resource Center (NSVRC), in conjunction with Sexual Assault Awareness Month (SAAM).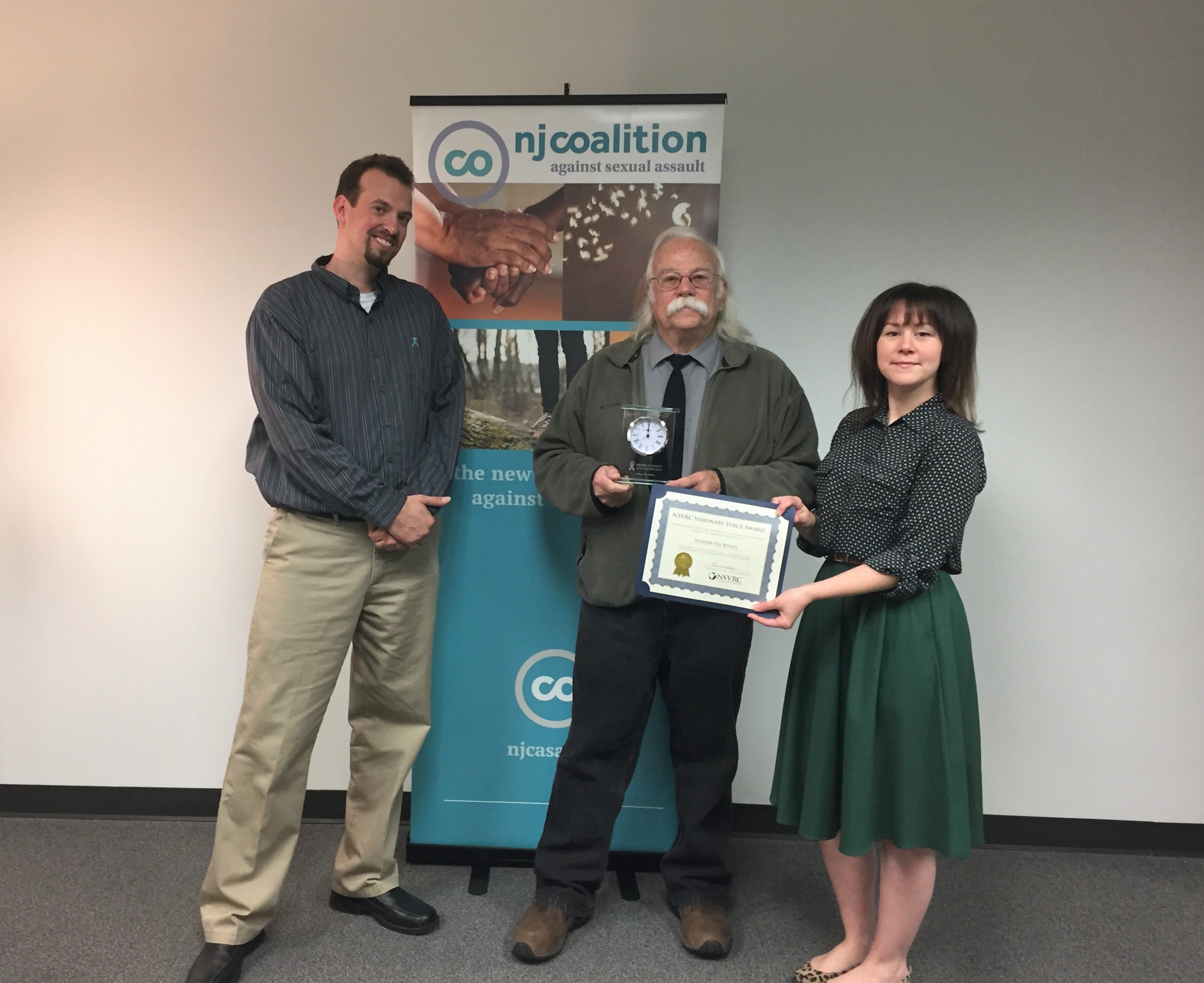 "Dr. Bosley has been a tremendous leader in the field of prevention and has graciously shared his expertise with me since I came on board here at NJCASA," said Liz Zadnik, Statewide Capacity Manager. "His patience and perspective on social change has been an inspiration to me and has informed my practice as both a preventionist and an advocate for survivors."
"I am accepting this award for the people who do this work and are not recognized," said Dr. Bosley. "I am very grateful for this award, on behalf of the many people who toil in obscurity to make this world a better place."
While with New Jersey's Prevention and Public Education Committee, Dr. Bosley's expertise informed statewide planning efforts and discussions on adequately addressing community trauma and ways to create safety, both for individuals who have harmed and survivors of violence. He has specialized in the treatment of sexually abusive and problematic behaviors for over 30 years. His treatment programs for adults and adolescents in outpatient, inpatient, and correctional settings have been used in Hawaii, Colorado, Tennessee, and New Jersey. Dr. Bosley also serves on the Board of Trustees for the New Jersey Association for the Treatment of Sexual Abusers. He is a longstanding and dedicated partner of NJCASA's.
Dr. Bosley is one of 32 recipients of this year's Visionary Voice Awards. Awardees represented a multidisciplinary group from across the nation selected for their outstanding work toward ending sexual violence.