Today is the last day of the first week of my sixth year serving as the executive director for the New Jersey Coalition Against Sexual Assault (NJCASA).
We were supposed to have a membership meeting today. It's a regular meeting, held every other month that provides a chance to share updates about the landscape in which local providers do this work throughout the state.
But today is not a "regular" day.
So, rather than conduct our normal business, together we sat, watching a landmark Senate Judiciary Committee hearing. Just like we listen to all victims, even when the national conversation tries to discredit them. Just like we listen to perpetrators feel empowered and like the rules don't apply to them.
And we rage. A rage composed of all of the years we've individually and collectively been pushing against the patriarchy. The system which makes laws about our bodies. The system which denies us justice. The system which rejects notions of our humanhood.
Today is not a "regular" day.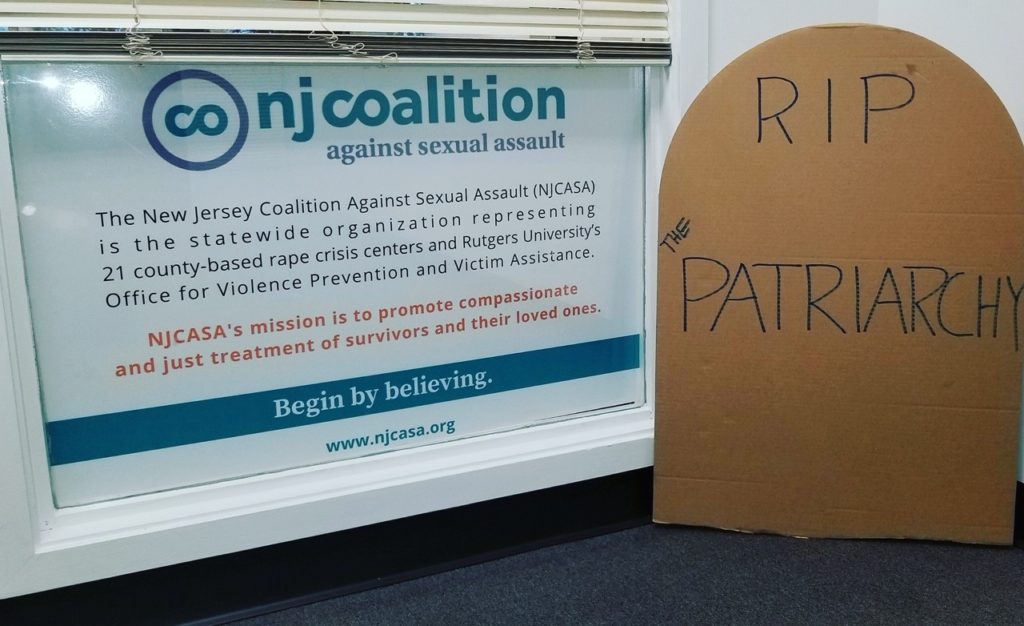 And we rage. For the survivors we serve. For the survivors who suffer in silence. For those who will now, most assuredly, never come forward.
It's not like we've been naively unaware of the power of that works against us. It is literally what we've been fighting for generations.
And they are not unaware, either – and the powerbrokers are intimidated by the strength of our voice and the truth in our stories.
So they silence us. Dismiss us. Hire prosecutors to poke holes in our stories. Rip us open…raw…vulnerable…in the name of "justice".
I cannot predict what tomorrow holds for us, but I assure that we will not be polite, cordial, and accommodating as the lives of survivors hang in the balance.
And so, my sixth year starts with a renewed resolve. While we've expertly, and professionally, navigated many of the patriarchal systems that influence our work, we may no longer be able to operate with the diplomacy of the past. We cannot be complicit in the upholding of systems and ideologies that are so blatant in their perpetuation of harmful norms.
Onward!
---
Patricia Teffenhart is the Executive Director of the New Jersey Coalition Against Sexual Assault (NJCASA).  NJCASA elevates the voice of sexual violence survivors and service providers by advocating for survivor-centered legislation, training allied professionals, and supporting statewide prevention strategies that work to address and defy the socio-cultural norms that permit and promote rape culture.
Patricia is a proud graduate of Douglass College and holds a Masters in Public Administration from the Rutgers School of Public Affairs and Administration. She has dedicated her career to the promotion and advancement of women and girls, having worked for county-wide, statewide, and national feminist organizations.
Patricia was a Fellow in the Leadership New Jersey Class of 2009 and is a 2014 recipient of the Alice Paul Equality Award. In 2015, under her leadership, NJCASA received the President Ronald W. Reagan Award from the New Jersey Office of the Attorney General in recognition of NJCASA's systems advocacy on behalf of survivors. In 2016, NJBIZ recognized her as being one of New Jersey's top Forty Under 40 professionals. In 2017, she was a recipient of Senator Menendez's Evangelina Menendez Trailblazer Award. For the last four years, Patricia was included in the Senate Majority Leader's New Jersey Women's Power List. She was recently appointed as a member of Governor Murphy's Transition Team, and at the height of the #MeToo movement, attended the 2018 State of the Union as the guest of Senator Menendez. The Star Ledger included Patricia in the "Top 25 People to Watch in 2018".
Patricia lives in Holmdel, New Jersey with her husband, son, and rescue dog and currently serves on the Board of Directors for the Women's Political Caucus of New Jersey, and the National Alliance to End Sexual Violence.
---