A Media Literacy Series
Unplugged is a blog series by the New Jersey Coalition Against Sexual Assault that critically observes, analyzes, and deconstructs various forms of media through the lens of our Media Literacy curriculum. It is important to note that everyone sees media differently, and our analyses are just one examination of many.
Once you switch on your media literacy brain, it's difficult to turn it off.  We are able to critically analyze media, ultimately leading us to become less affected by the hidden messages. Yet, we also live with the curse of struggling to find positive messages in a world so saturated with subliminal harmful messages, especially when it comes to media.
So when we see a potentially positive media message, it's only fair that we identify and emphasize its value along with the possible influence it could prompt.
While Justin Bieber has been in the spotlight for a multitude of reasons, his performance at this year's MTV Video Music Awards sparked some conversation when he began crying at the end of his performance. His reaction was criticized by some, yet others used this event to continue conversations about modern masculinity.
In addition to the VMA performance, his song "What Do You Mean" has contributed to the ongoing discussion around affirmative consent.  The title of the song is repeated lyrically many times throughout the song.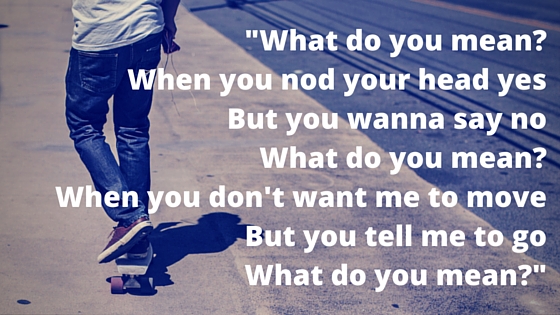 Taking a closer look, when Bieber sings, "What do you mean when you nod your head yes, but you wanna say no," he is asking for consent, regardless of what is occurring at that moment. This theme of asking for clarification from his partner is repeated throughout the entire song.
The song can really open up the conversation around enthusiastic consent. If someone responds unenthusiastically to a request, even if it is a nod or some sort of affirmation, it is the responsibility of the partner to check in and ensure that all parties are on board. When Bieber sings that first line, he is doing just that: ensuring that consent is present, especially when he senses hesitation.
This is a great model that can be used to demonstrate what consent can look like, especially when our media is heavily saturated with ideas contradicting the culture of consent we try to foster. Moving forward, we can look for similar messaging in other forms of media and open up conversations with those around us to model what consent really could look like.
What are your thoughts on Bieber's new song?  How can this start a dialogue with communities about consent and media?