As NJCASA continues our work on behalf of survivors and victims of sexual violence, we found ourselves asking over and over again – what is the actual, lived experience of survivors in the Garden State? Where are the gaps in survivor  services, and what improvements can be made? We knew we needed to have a fuller picture of what is truly needed in the aftermath of a victimization.
Thanks to generous funding from the Robert Wood Johnson Foundation, NJCASA was able to launch its Survivor Survey, which aimed to measure and evaluate the lived experience of survivors  of sexual violence in New Jersey.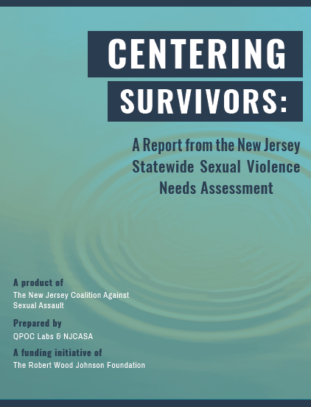 We also embarked upon the Stakeholder Survey, which examined professionals who interact with victims of violence to assess where there are opportunities for growth and change. Today, we are proud to share the results in our newest report, Centering Survivors: A Report from the New Jersey Statewide Sexual Violence Needs Assessment.
We partnered with QPOC Labs, Inc. to conduct the surveys, which identified specific needs for survivors throughout the Garden State. Please note that the demographic sample of survey respondents does not match that of the state of New Jersey. Overall, respondents held an incredible amount of privilege – in terms of race, class, gender identity, and educational attainment. While these findings can begin to paint a picture of survivors' needs in the Garden State, they should not be viewed to wholly represent all survivors.
Nearly nine in ten (86.4 percent) of respondents experienced more than one incident of sexual violence in their lifetime – a finding higher than other surveys of the same nature;
Nearly 90 percent of respondents indicated that they knew or had a pre-existing relationship with the person who caused them harm, prior to the victimization;
More than 80 percent of respondents indicated that they disclosed information about the assault to someone afterwards — including family and friends;
Just 18.2 percent of respondents reported an assault to law enforcement; only 13.3. percent sought medical care after a victimization; and less than half (43.6 percent) accessed support services, like counseling or advocacy.
Though these findings are limited in terms of capturing the experience of survivors of color and survivors who are LGBTQ+, they provide a starting point for recommendations, including:
Accountability. NJCASA's delivery and promotion of the Survivor Survey failed to achieve statistically significant racial, ethnic, or educational diversity in its respondents. This underscores a critical need for the Coalition to establish accountability mechanisms, so that the needs of these community members are being met. This should include opportunities for organizations who are meaningfully serving historically-marginalized survivors to make recommendations and share insights, and for their invaluable work to be thoughtfully funded and resourced.
Divestment and Reimagining. Respondents consistently underscored that the criminal legal system has failed to meet their needs. A dual model of both creating additional pathways to justice and redefining measures of success in the current legal system will more comprehensively meet the needs of survivors.
Education. Both Survivor Survey and Stakeholder Survey respondents underscored the need for more community-wide education around sexual violence – including the long-term effects, behaviors that constitute sexual violence, and counter-messaging around social norms that lead to sexual harm. Survivor Survey respondents in particular underscored that more education during early childhood would have been critical.
NJCASA is committed to continuing our work to improve systems for survivors. We thank the Robert Wood Johnson Foundation for their generous support of this Needs Assessment and the report. Over the next few months, NJCASA will be hosting a virtual conference series to highlight these findings.